DeKalb County Tax Commissioner Irvin J. Johnson announces extended hours at the property tax office located on Memorial Dr. from Sept. 26 – 30 until 6 p.m. Customers paying their property tax bills will temporarily use the UGA Extension office entrance at the front of the building through Friday, Sept. 30. Seniors and customers with a disability parking placard may still check-in at the Property Tax side entrance from Northern Avenue.
"Each year we see an influx of walk-in customers as the payment deadline approaches. Many are unaware of the automated payment systems we have in place to save time and resources," said Johnson. "I highly encourage taxpayers to review their options and consider online payment, or pay-by-phone, mail and drop box methods to avoid long lines and delays."
DeKalb County tax bills were sent mid-August by mail and by email to property owners who signed up for paperless billing. Installment deadlines are Sept. 30 and Nov. 15. City of Atlanta/DeKalb bills were mailed beginning Sept. 15 and are due Nov. 15. Payments can be made online at DeKalbTax.org, or by drop box, mail or by phone.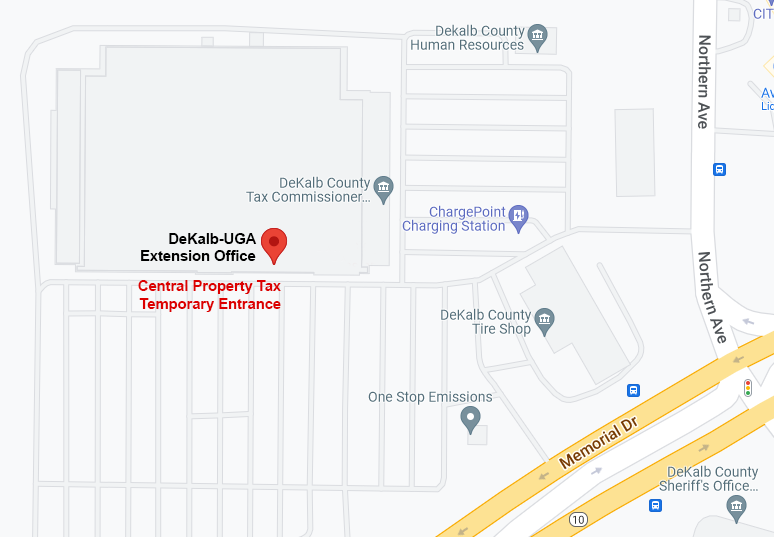 What taxpayers should know before visiting the central office location to pay their bill:
The first installment is due Sept. 30. If you're paying the full amount in one payment, it must be paid in full by Sept. 30. The second installment is due Nov. 15. Please check your bill for the amount due before the deadline.

Remember to bring your tax bill stub and a valid Georgia ID or Georgia driver's license.

Acceptable payment methods include a credit card, debit card, check or money order; processing fees apply for credit/debit card payments.

General parking is available at the Extension Services lot and the Property Tax lot; disabled customers may use the Property Tax entrance off Northern Avenue.

Security screening and temperature checks are required for service.
To avoid long lines, wait times and late fees, please consider the following payment methods:
Online: dekalbtax.org/property-information. Credit/debit card payments are accepted; processing fees apply. There is no service fee for paying by e-Check.
Drop box: Secure gold drop box at the Memorial Drive or Clairmont Road tax office locations, or secure mail slot at South DeKalb Mall tax office location. Payment must be placed in the box by the due date (cash not accepted).
Pay-by-phone: Call 770-336-7500, Monday - Friday, 8 AM – 5 PM. Payment does not apply to prior year, delinquent payments. Credit/debit card payments are accepted; processing fee applies.
Mail: Mailed payment must be postmarked by the U.S. Postal Service by the due date to avoid late fees; metered or kiosk postage dates are not accepted as proof of timely payment.
"Property owners who have not received their bill may contact the tax office to avoid delays," said Tax Commissioner Irvin J. Johnson. "Failure to receive a bill does not relieve the owner of the responsibility to pay taxes due. It is the property owner's responsibility to inform our office of any mailing address changes."
Tax bills reflect millage rates set by the DeKalb Board of Commissioners and governing authorities, and the fair market values determined by the county's Property Appraisal Department. Taxpayers should be aware that in any tax year, tax bills could be higher due to an increase in the fair market value of a property but can be offset by tax savings (E-Host and exemptions). The deadline to appeal property assessment values was in July; the deadline to apply for homestead exemptions was April 1, 2022.
For questions about property appraised values, please call the county's Property Appraisal Department at 404-371-0841. For questions regarding tax payment and exemptions, contact the Tax Commissioner's Office at 404-298-4000 or proptax@dekalbcountyga.gov.
Follow the Tax Commissioner's Office on Twitter and Facebook at @dekalbtaxga or visit the website DeKalbTax.org for updates.