The Tax Commissioner's Office will be promoting the Georgia Pet Foundation on Friday, February 15th, 2019.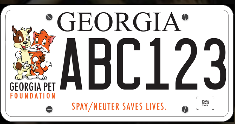 Through the sale of specialty license plates and private charitable donations, the Georgia Pet Foundation funds eligible, state-wide spay-neuter programs in an effort to eliminate pet overpopulation and the euthanasia of healthy and treatable cats and dogs.  GPF was established as a 501(c)(3) non-profit organization in April 2016, when Governor Deal signed legislation approving the new tag. The tags can be purchased at the Tax Commissioner's Offices. 
Approximately 62% of homeless pets who enter Georgia county shelters are killed each year.  In addition to GPF's spay-neuter grant program, they also focus on public education initiatives to increase community awareness of the benefits and imperatives of spaying and neutering Georgia pets.